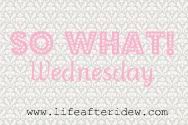 Go link up!
This week I'm feeling SWW. So here goes!
SO WHAT! If I...
Am the worst Words With Friends player ever. I don't get any notifications when it's my turn and I often forget to check. Like for 4 days. Thankfully no one I'm playing with seems to mind. Plus I'm getting beat in all of my games. I'm a good speller but apparently not a creative word thinker. Does not help that the hub's family cut their teeth on Scrabble boards and they knew every 2 and 3 letter word in the dictionary. Lol!
Purposefully have "messy" hair today. Last night it was too late to go through the blow-dry routine (which doesn't look good the next morning anyway) so I just piled my hair in clumps on my head using clips and let it dry overnight as I slept. This morning I have wavy "beach" hair. But an office mate said it works for me :) So I might do this more often. I think it's easier on my hair than the constant heat styling.
Was "stank" last night after kickboxing. At least I burned some calories. And it was fixed with a shower before bed instead of the usual morning one. I had to. It was that bad.
I have tried 3 or 4 times to win tickets to a local concert but have failed each time. Why can't I seem to be the 5th caller!!! I've gotten 2, 3 and 6. But not 5!
I forgot to pay our rent this month. Didn't remember til we got a letter in our door. Whoops! At least they didn't charge a late fee.
Am going to go to a second Walgreens because the first one was out of their 50 cent chicken broth. I'm trying out some couponing and that means working harder for deals.
Don't understand people who coupon for stuff they don't need or want. I understand they donate things sometimes. But to me that's a fair amount of work for something you don't need or want for your family. Pouring over ads, clipping, printing, researching, shopping at likely more than 1 store. It's a lot!
Happy Hump Day Ya'll!