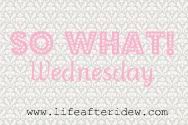 Go link up!
This week...
So what if I waited til the last possible minute to do the SWW post. Wednesdays are becoming busy with posts to read, compose and the grocery ads coming out and all the coupon hunting!
So what if I ate bad all weekend because myfitnesspal app was messed up and I had no way to track calories. It's in working order again today. Back to counting.
So what if I want to go through my house and purge everything possible so I can make room to "stockpile" my coupon deals. But then I think "someday soon I will have a place for this." Surely we can't fit into this 2/1 apartment too much longer!
So what if I don't but the hype that you can deeply save with coupons and still eat healthy. The coupons for fresh produce and meats, just not that many!
So what if I was devastated at the end of my 3 hr coupon seminar when I found out that everything she taught was almost for naught, because she doesn't think it would really work well with the E-Mealz menu we do :(
So what if I was all about getting some free tickets to the Craig Morgan outdoor concert, and then the best part about it was sitting outside with a breeze reading a book. I did NOT like the "warm-up" acts that took up nearly two hours. Craig was ok though. I just realized even more that even though they may not be "gangsta rap" the lyrics to many country songs are still immoral. Just about sex, drinkin and guns.
So what if I am taking sugary breakfast cereal to a "breakfast for dinner" party Friday. Lots of main dishes and sides are accounted for. So I'm bringing the "dessert".
Happy 2 days til Friday!