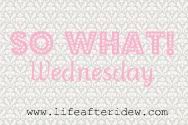 Go link up!
This week I'm saying:
SO WHAT! If I just don't feel into doing a SWW post today. Instead you are going to get random thoughts.
Today I rearranged my desk at work. I spent a lot of time on some less than clean carpet re-routing wires. In a dress. But I am happy with the new arrangement. After 3 years it was time for something new.
I wonder if I will be in this job til the 5 year mark. I honestly hope not. But I realize how quickly time can pass. More than ever I want to be at home. It's getting hard to be thankful for my job. But thankful I must remain. When I get my paycheck and see how much income our business would need to make to replace it, I am grateful. I'm also doubtful the business will ever get there. But I know I'm just being impatient. I mean the business is really only a month old. It has been the hubby;s side job until the first of May. And 10 days of May were spent out of the country. It's so hard to be patient though. I'm guilty of the "just this" thinking. If I just had this or that, I'd be happy. If I could just stay home so I can start our family before 30. If we could have more space. If we could make decent money.
But then I have to remind myself of the co-worker with brain cancer, and the mom who left behind 2 teenagers and a husband last Sunday after her brave fight with ovarian cancer. Getting out of bed at 6:20 to spend 10 hours away from the house each weekday seems less of a problem.
Even know my head knows this it's sometimes a little harder to get it to my heart.
It's always hard to get back in the work routine after a long weekend. It's hard to be a person who just doesn't love to work. Some people thrive on work. I've never had a problem working because that's what is necessary. But to be honest, I would love for the rest of my life to be one big vacation! Lol. I love traveling, going to the beach, being outdoors, shopping etc. But I'm told eventually even those things get boring. I'd like to find that out for myself!
Time management is getting even harder now that I'm adding in the gym. After hubby's first week back where I did not get home til 8 three nights in the work week, he told me he missed me. The only other option I can see is to go to the gym before work. Like leave the house at 6am. Let's be honest, that is so NOT happening. I tried to convince myself I could. I just can't. It's hard because if I don't go the gym I generally do not work out as hard at home. And with the hubby's should injury, we are limited on what we can do. Walking and jogging really.
It would be nice if we could go to the gym together, but hubs doesn't like the gym, we probably don't really have the money for another membership and there's no way he would go to the group classes with me since it's mainly ladies and aerobics. I already invited him to yoga and that was squashed.
I just don't know how to fit it all in. Work, some help with the business, cleaning, cooking, fitness and of course leisure time and time with the hubs. It's difficult to take care of anything but the first one since it takes up at least 52 hours a week.
I don't know how the single mommas do it.
I'm gonna shut up now and quit whining.