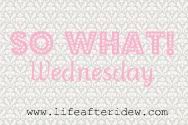 Shannon got a new button! Go link up!
This Week I'm Saying So What if...
My main clothiers these days are yard sales and Ross. Girl is gettin outta debt yo!
When I think of how an outfit will look on me, I picture myself about 50 pounds lighter in my head, lol. It just happens automatically.
The air conditioner in my car is dying again. So much for the $70 fix. Good thing it's not too terribly hot yet.
One of my dreams these days is to be a (not quite extreme) couponer and take a couponing class that a local lady offers. I'm not sure why cause right now I probably do not have the time it takes to be a great couponer (no time to find all those coupons and shop five different stores and no place to store the stockpiled items) but a girl can dream :)
Saw a big white conversion van with a giant Transformers logo in the back window. What a nerd.
Don't think the word "eff" is acceptable as some new cliche. Everyone knows what it's a substitute for. Don't pretend.