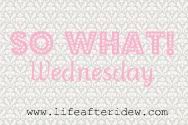 Shannon got a new button! Go link up!
This Week I'm Saying So What if...
I wore the same yoga pants to the gym like 4 times in a row. I just use them to sweat in and then peel them off again. They don't smell.
I'm a mani pedi snob. A lot of times when they finish I just don't think it was worth the money. The polish job I can do myself. So that's no biggie. But it's not as nice when I soak, trim, rub and scrub my own feet. So when I pay $30 for someone else to do it I expect my water to be hot, my feet to soak more than 2 minutes and for it to take longer than 20 minutes for it to all be done! (Rant much, Sarah!)
Clean the house for my hubby's homecoming even though he personally couldn't care
Sometimes I feel pretty proud of the way a meal that I cooked turned out
The scale has shown no change since I started going to the gym 8 days ago. (I know I know, so impatient) But I feel like *maybe* I look a little thinner. But it may just be a feeling. For now I tell myself there's no change cause I'm adding a little muscle. Yes, that's what I'll blame it on.
I sometimes add things to my to-do list just so I can mark them off. I like seeing what all I've accomplished.
I've probably enjoyed a little too much not having hardly any dishes to "do" this week. Besides the pots I've cooked in I've probably dirtied 10 items. Now I know for sure all those dirty dishes are from the DH! : )
Hubby comes home tomorrow evening! Yay!