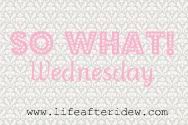 Shannon got a new button! Go link up!
This Week I'm Saying So What if...
I didn't cry at the airport seeing John off, but I bawled when he called the next day before leaving the states for good
I considered not shaving my slightly hairy legs this morning because the hubby is not here
Sprayed his cologne on his pillow so I could "smell" him in the bed with me
Having the bed to myself is not all I thought it would be. Even with more room my 2 canine kiddos are plastering themselves to me all night. The three of us combined can put out some heat! But they look so adorable sleeping I don't have the heart to tell them "down"
I ate cereal for lunch yesterday
I signed a gym contract. I just could not swallow the monthly non-contract fee.
I did a kickboxing class and 15 minutes of abs and I'm sore this morning. This should not be. In the past this would not have phased me as much. I am out of shape. Course that's no huge revelation.
Yesterday I realized that of the 5 girlfriends I was close with during my early 20's, all of us have chosen wedding gowns with sleeves of some kind. The last one of us is getting married this fall and just emailed us dress pics. In today's strapless gown world this is rare.
I clean my wedding ring nearly every week to make sure it's always looking its best. It only takes a few minutes and I'm vain that way.
Friday's coming soon!!!! Smile!