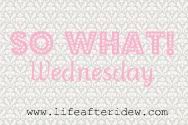 Go link up!
This week I'm saying:
So What if I...
Have no motivation for this post this week. Staff meetings or webinars at work always put me in a funk. It's hardly ever good news we hear.
Walked out of conditioning class before anyone else last night. I'd already done the cardio class and the substitute instructor thought she would do like 30 minutes of crazy-intense ab work. Usually we start with 10 or 15 minutes of abs and then we leave.
Am a groupie now. I downloaded the MyFitnessPal app. I have to say, so far I'm loving it. Good motivation for our upcoming cruise.
Sometimes I want to quit my job really bad. Not because it's so horrible but because I am just tired of the bureaucracy. Oh and of course because of my burning desire to be home. But you all know about that. Sometimes I just wanna say "pttthhhhh" to responsibility and live by the seat of our pants. Live on whatever we can make ourselves. I'm tired of being the stability in our income. We can save tons of money when I have the time to become an extreme couponer! Lol.
Cannot for the life of me spell bureaucracy. Thank you spell check.
My birthday is soon and I'm just excited about time off from work. I think I've reached the age when birthdays are no longer a big deal. Especially when you are starting a new business AND trying to get out of debt.
What are you saying "So What!" to today?